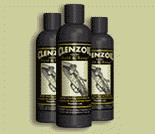 Clenzoil Field & Range Solution - 8-Ounce Bottle
A high quality one-step rust preventative and lubricant for Lock, Stock and Barrel(TM). It is effective in removing oils, dirt, copper, lead and other contaminants. It provides a thin, non-greasy coating that prevents rust and lubricates all moving parts of fine firearms and sporting equipment. Clenzoil also nourishes, preserves and protects wood & leather. It will not harm polymer or other synthetic surfaces. Great for wood stocks & grips, leather holsters, scabbards and slings.

FIELDSPORT Select™ Item #9907. Call 1-888-933-0767 to order.
$15.95
Copyright 2023 FIELDSPORT Ltd.