Ask Dr. Shotgun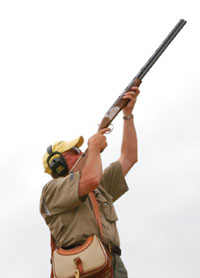 Who is
"Dr. Shotgun"™
you ask? Simply said, he is the answer to everything you ever wanted to know about shotguns, gunfitting and wingshooting... but have not known who to ask!
"Dr. Shotgun"™
is here to help and serve.
"Dr. Shotgun"™
has over 35 years of experience in the world of fine shotguns and he realized quite awhile back that many of the questions he's fielded by his clients are repeated over and over and over again. Therefore, he will selectively answer your questions on the FIELDSPORT web site in a public forum.
"Dr. Shotgun"™
has decided to help more than one dedicated Wingshooter at a time by publicly posting the answers to both commonly asked and difficult questions alike. If the good
Dr.
is stumped, he will dig deep into his group of Wingshooting friends and cronies to research and arrive at the correct answer for all.
So, fire away... e-mail
"Dr. Shotgun"™
your questions and he will do his best to answer them, for the benefit of all.
Best Wishes & Good Shooting,
"Dr. Shotgun"™
Question:
Dear Dr. Shotgun AKA Bryan,
Once again, I am in awe. My new Caesar Guerini Black Limited is great. I have been shooting three times now and I am completely happy about the fit and the product. I am shooting very well and having a great time hitting targets. I now have a smile across my face that can't be removed. Thanks again for the special care and fitting that Tena and I receive every time we are in your store. But most of all Thank You for your friendship. We hope to be able to shot with you soon...
Warmest regards,
Bob & Tena
Answer:
THANK YOU my dear friends! It was my pleasure to help.
Doctor Shotgun - Bryan Bilinski