Find Us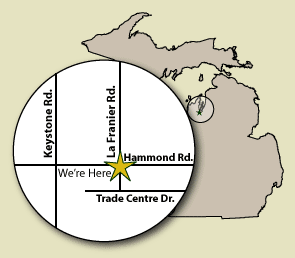 Store Hours:
Mon - Friday 10am-5pm
Closed on Saturday
Closed Sundays & All Major Holidays
Special Hours by Appointment
231-933-0767
231-933-0768 Fax
We will mail-order any product we offer.
Auto and Air Directions:
1428 Trade Centre Drive, Traverse City, MI 49696
We are located approximately 4 1/2 hours by car north of the Indiana border. Traverse City may also be reached via direct jet service from Detroit Metro and Chicago O'Hare airports.
If you are flying in for a gun fitting or a shooting lesson, call us for directions to store: 231-933-0767.