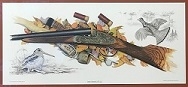 "An Upland Tradition" Print of Watercolor Painting by David Ruimveld
This handsome print features the three key ingredients that make October the finest month of the year: Ruffed Grouse, Woodcock and a fine AyA No. 2 game gun. Commissioned exclusively for FIELDSPORT, this print (with and without frame) of the watercolor painting by wildlife artist David Ruimveld has accurately captured all the elements of a traditional bird hunt… all you need to add is you and your favorite canine hunting companion!

$85.00
Copyright 2021 FIELDSPORT Ltd.